Noticias
SINOMCH with 12 Item products landed in Shanghai Bauma China 2016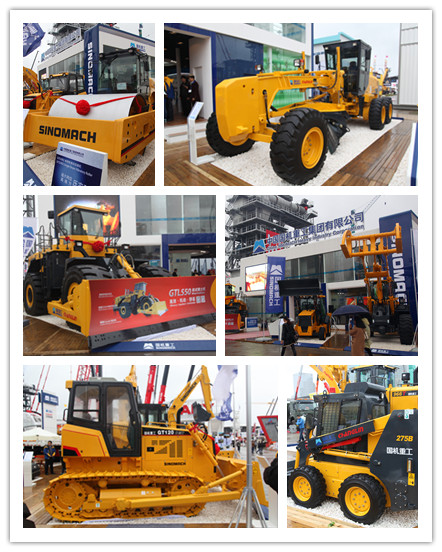 22nd Nov. the biennial Shanghai construction machinery, building material machines, mining machines and construction vehicles exhibition (bauma China2016)was opened in Shanghai New International Expo Center. With 12 units of machineries SINOMACH shown on booth no. D46. Deputy general manager Mr. Zeng Xiangdong from SINOMACH Group visited us. On the exhibition our products covers seven items star products and five items new products from the Subsidiary companies. They are GP220M Motor grader,719T Motor grader,GYS3902 Road roller、966T Wheel loader, 630A Backhoe loader ,275B Skidsteer loader,and CHL5252JSQD4 Truckmounted crane etc.With good adaptability, high emission standards and low cost advantages, the products not only meet the needs of domestic users, but also applies to countries in Europe and the United states.
  Within the 5 new items products, GTL550 wheeled bulldozer with 4 years works we created the boutique, currently it's the largest horsepower wheel bulldozer in China; GE380H excavator is also one of our new generation flagship product with strong excavating force and excellent production efficiency. In order to meet the needs of small and medium-sized excavator market demand, GE150H small excavator was introduced with high efficiency, flexibility, suitable for municipal construction, water conservancy projects, road and bridge construction and real estate projects. In addition, for the transformation of farmland, water conservancy construction, mining and other earth-moving works, SINOMACH developed GT120 DMT bulldozer. GYS3902 with state III emission road roller is the representative of our compection machinery, the max excitation force is 770 kN, with strong permeability, the impact depth more than 4 meters with leading compaction effect in China.  
  On the opening day "China Engineering Machinery Industry Yearbook" 2016 was released on SINOMACH both. China Construction Machinery Industry Association Secretary General Su Zimeng and other leaders witnessed the annual release of the opening ceremony and chairman Wu Peiguo gaves the speech.